Our Story
Flooring without compromise
At Philadelphia Commercial, we are passionate about delivering flooring that meets your unique needs. We offer the perfect solution for any interior space without compromising on design, workmanship, quality, materials or service. And we offer it at a value you won't find anywhere else in the industry.
From commercial broadloom to carpet tile and resilient flooring, our products are known for high performance, fashion-forward design and attainability. Choose from an extensive variety of options in every price range and the largest Quickship selection in the industry.
We bring your vision to life. Whether you're designing a space for a school, corporate office, senior living facility or physician's office, our team will help you choose the ideal products for the market and the project at hand.
Choose exactly the flooring you want, delivered when you need it … without compromise.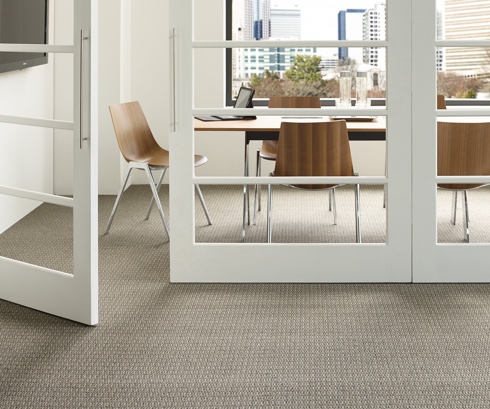 About Shaw Industries
Philly Queen Commercial leverages the strength, stability and expertise of its parent company, Shaw Industries, Inc., the world's largest carpet manufacturer.
Shaw is a complete flooring provider; producing carpet, hardwood, laminate, ceramic tile and area rugs for the residential and commercial markets.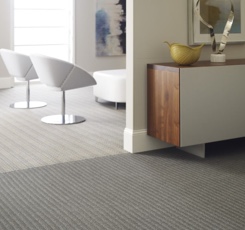 Shaw Industries Profile
The world's largest carpet manufacturer and a leading floorcovering provider, Shaw Industries Group, Inc. is a vertically integrated manufacturer that supplies carpet, hardwood, laminate, resilient, tile & stone flooring products and synthetic turf to residential and commercial markets worldwide. A wholly owned subsidiary of Berkshire Hathaway, Inc. with more than 22,000 associates, Shaw is headquartered in Dalton, Georgia, with salespeople and/or offices located throughout the U.S., as well as Australia, Canada, Chile, China, India, Mexico, Singapore, United Arab Emirates, and the United Kingdom.
Quality & Performance
The Shaw Quality System is a customized version of the ISO 9001/9002 quality system standards. SQS is the standard for all Shaw operations, with individual facilities and operations responsible for implementing and maintaining quality systems. This system allows Shaw to conduct internal audits to verify and control the quality of all its products.
Six Sigma
Shaw employs the Six Sigma business improvement methodology to increase operational excellence, understand complex data and find process solutions. Over 320 Six Sigma Black Belts and Green Belts are employed at Shaw.
Lean Manufacturing
Lean manufacturing practices ensure that Shaw achieves the maximum amount of effectiveness from its manufacturing equipment. Because downtime impacts production, shipping, delivery and, potentially, customer satisfaction, Shaw employs Lean ideas to achieve maximum efficiency. Lean helps to determine "waste" and how to eliminate it, producing a streamlined process that ultimately enhances the customer experience.
Environmental Management System
Increasing operating efficiency is a major way that we are reducing our impact. We monitor our processes through the Shaw Environmental Systems(SES), our specialized environmental management system that monitors and reduces our energy, water, emissions and waste. This system is modeled after the requirements of ISO 14001 while tailored to fit the specific needs of a carpet manufacturer. All of our carpet manufacturing plants are certified through the SES. Additionally, our carpet tile facility is certified through ISO 14001.
Safety
With manufacturing facilities across eight states and thousands of plant employees, safety is a strong focus for Shaw. Ensuring a safe manufacturing environment helps our people do their best. Safety committees and task forces at the plant level find solutions to potential safety issues and implement recommendations. With buy-in at every level, our employees are committed to a safe working environment.
Service
Vertical Integration
Unlike some other manufacturers, Shaw enjoys the benefit of being vertically integrated. By controlling nylon polymerization, fiber extrusion, production and reclamation of our products, we can manage cost and ensure the quality of the entire product.
Shaw Integrated Solutions
Providing professional services to the corporate customer, Shaw Integrated Solutions (SIS) is a valuable benefit to our customers due to our size and the resources available to Shaw. SIS provides flooring consultation, standards programs, forecasting, management reports, quantity estimates and installation services, to name a few. SIS leverages a nationwide network of flooring contractors to provide customers with the best price without having to bid out every project. SIS will take care of these details so customers can focus on other aspects of their projects.
Shaw Online
Shaw Online is a website giving our customers instant access to order information, product availability and other valuable resources. Through Shaw Online, customers can:
Place orders
Check inventory
Reserve inventory
Track orders
Search our product catalog
Receive electronic shipment notification
View product specifications
Access price agreements
Receive electronic price change notification
E-Pay
Submit claims
Customer Service
The Customer Service Department is available to accept orders, answer technical questions, schedule shipments, check stock, and secure samples Monday through Friday, 8 a.m. to 6 p.m. EST. Call Customer Service at 877.502.7429 or email at inforum@shawinc.com.
Transportation & Distribution
Shaw has 30 regional distribution and redistribution hubs in the United States. In addition, Shaw owns the largest trucking fleet in the carpet industry, consisting of over 1,000 tractors and over 4,500 trailers. These trucks make 2 million deliveries each year and travel over 80 million miles. Shaw maintains a domestic and an international freight department. As the largest carpet distributor in the world, Shaw offers the most competitive rates available. Shaw's redistribution transportation network can track shipments at any point between departure and arrival to the customer.
Maintenance Training
Shaw testing on various cleaning procedures, machines, and chemicals is compiled in our Maintenance Booklet, which is provided with each product to ensure that the customer's staff is properly informed. Shaw also has a professional training staff to conduct on-site training. The fundamentals will be presented in a one and a half hour training session where questions are welcome. A presentation, "Maximizing Your Carpet Investment," will include all facets of carpet care. Trainers will also work with maintenance crews to devise appropriate maintenance schedules for your facility.
Installation Training
Shaw offers the Commercial Installation Certification Program through the Shaw Learning Academy, named by Training magazine as one of the Top 100 training programs. Installers learn through hands-on interactive sessions over two and a half days in Cartersville, GA, complete with two mill tours. Topics covered include installation methods, adhesives, seam sealers, installation equipment, Shaw backings, floor prep, seaming methods and others. Additionally, the installers learn to use VIT lift system and are certified in the Advantage System. Training concludes with testing and certification. Training seminars are also scheduled across the country and can be brought on-site. Please call 800.471.7429 to register.
Social Responsibility
Shaw stands on the values of honesty, integrity and hard work. Through these, we strive to be seen as a world-class company as defined by the customers we serve. These values drive our desire to innovate, to continuously improve and to exceed our customer's expectations in quality, service and value.
Diversity
Diversity is more than race, gender and age. At Shaw, diversity is about inclusion and respect for people. Only by including and developing talented people from different backgrounds, experiences and perspectives will we ensure our place as a world-class organization and win in the marketplace. An environment that values and respects the varied backgrounds of all people will allow us to exceed the expectations of our customers, increase our value to stakeholders and provide growth opportunities for our people.
Community Contributions
Shaw is extremely active in the communities where its facilities are located. It financially supports many causes and events that serve to better the overall community. Shaw is proud to be a strong corporate citizen and will continue to be an active participant, as this is an important aspect of the Triple Bottom Line: equity, ecology and economy.
Shaw makes regular charitable contributions to the following organizations:
Nature Conservancy
Conasauga River Alliance
Georgia Aquarium
Keep Dalton/Whitfield Beautiful
Weekend of Wildlife Program
Georgia Department of Natural Resources
Tennessee Environmental Council
United Way
Shaw is a proud corporate supporter of the United Way. Through their efforts, the United Way is able to impact a broad segment of the community through their financial support of local organizations. Shaw annually donates to United Way chapters in Northwest Georgia. Our support is led by our employees, who contribute their own time and resources through financial contributions and volunteering.
DIFFA
The Design Industries Foundation Fighting AIDS (DIFFA) is one of the country's largest supporters of direct care for people that are living with HIV and AIDS, as well as preventive education for those at risk. To date, DIFFA has granted over $35 million to hundreds of AIDS service organizations throughout the U.S.