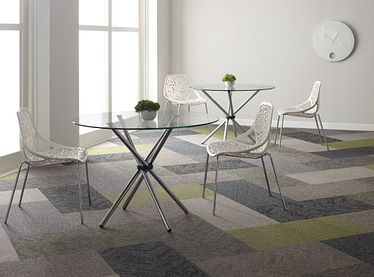 re[TURN]®️
Our Guarantee
All EcoWorx® carpet tile and ReWorx™ hybrid flooring are backed by Shaw's Environmental Guarantee through our re[TURN]® Reclamation Program which pledges to collect and recycle these products at the end of their useful life at no cost to the customer with a 500 square yard minimum. Other soft surface products can be picked up for a fee through re[TURN].
A leader in carpet reclamation and recycling, Shaw has recycled nearly 1 billion pounds of carpet since 2006. And the addition of ReWorx to our Environmental Guarantee highlights our continued efforts to expand our take-back program.
Watch our ReWorx PET Flooring Innovations Video:
Learn more about Carpet Tile Recycling by watching the video below:

Start a re[TURN]
To recycle your EcoWorx®️ or ReWorx™ flooring through our re[TURN]®️ program, please reach out to a Philadelphia Commercial Territory Manager.