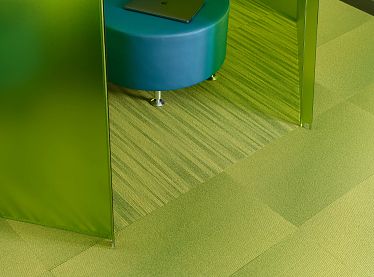 Sustainability
Product Certification
Our products meet a variety of sustainability standards and certifications, including Cradle to Cradle Certified, FloorScore, Green Label Plus and NSF 140 and contribute toward LEED credit. Health Product Declarations (HPDs) and Environmental Product Declarations (EPDs) are also available for our carpet products. Contact your sales representative for more details on a specific style.
Cradle to Cradle™ Certified
Using the Cradle to Cradle CertifiedTM product standard, we work hard to design with material health, resource conservation and social responsibility in mind. All our EcoWorx® carpet tile and broadloom products made with Eco Solution Q® Nylon 6 fiber are Certified Cradle to Cradle. Made using safe, responsible ingredient materials, Cradle to Cradle products are designed to be reclaimed and recycled into new products. To achieve Cradle to Cradle certification, products are assessed for:
Safe, healthy ingredient materials
Design for material reuse – including recycling or composting
Energy efficiency – and the use of renewable energy
Water efficiency – and maximum water quality
Socially responsible business practices
CRI Green Label Plus
An independent testing program of the Carpet and Rug Institute, Green Label Plus verifies low volatile organic compound (VOC) emissions for carpet, adhesive, and cushion products.
FloorScore
Developed to test and certify resilient flooring products for compliance with indoor air quality emission requirements adopted in California, FloorScore IAQ Certification means that a product has met the stringent standards to comply with the volatile organic compound emissions criteria of the California Section 01350 Program.
NSF-140
A sustainability assessment for carpet, NSF 140 focuses on quantifiable metrics for the following product attributes:
Public health and environment
Energy and energy efficiency
Bio-based, recycled and environmentally preferable content materials
Manufacturing, reclamation and end-of-life management
Innovation